2020. 06- 2020. 10
Space Design / Kids Education / Strategy
Wobbly World
An educational space designed for kids age 5+ and their adults to explore the theme of balance.
Notes
---
During summer 2020, I had the chance to work on an incredibly creative, educational yet unconventional space with Cas Holman (Heroes Will Rise, inc) and Ayako Takase and Cutter Hutton (Observatory) for Liberty Science Museum in NJ.


We are used to a world where things are static, non-changing, but what if it is off-balance and evolving?

The wobbly space is an educative, exhibiting space designed to help children learn the concept of balance and unbalance as well as help them develop multiple skills. In this sculptural jungle of colors, forms, and shapes, we hope this unconventional, non stationary space will be fun for both the kids and their adults to explore!



Our focus
---


The team was given the freedom to think about space differently to explore the space in a way that would seem exciting, fictional and somewhat challenging the norm of what an interactive space should be. The raw space was a huge blank canvas for the team to sketch the most wild, blue-sky ideas on.

But the core idea is that we wanted to transform the space into a spectacular playground that is filled with surprising forms that can interact with each other, that breaks the definition of traditional playground.

We had the chance to meet with the museum staff monthly to hear about their experience and feedback about how people interact with installations and sculptures. Where would people sit; where would children run to; which path is the most popular path? From these conversations, we were then writing our own strategies and storyboards on how we are going to tell our version of the story.

Timeline
---


This project had a very tight timeline in terms of designing and developing. But because we had a very collaborative environment, each designer and intern can tackle different stages of the project at the same time. We had set short term (weekly) and long term (quarterly) goals for what needed to be done.

We had the first three month to define our scope, brainstorm, finalize ideas, and meet with the museum to give feedback. Then it was followed by developing ideas through CAD modeling, and 3d print components to make scale and 1:1 models for testing.

It was then followed by us researching and finding the right manufacturer and following up with engineers to go through safety testing.

Inspiration

---
Multi-textured landscape that is engaging and fun for early learners
Our initial design research shows that there was a huge blank space for an
immersive interaction space for kids.
So we designed and proposed
three higher-activity-leveled landscapes (tumblespace, Kinetic center, Manupulables ) and two lower-activity-leveled landscapes, each focusing on different themes
that would address what we had talked about in the conversation with the museum.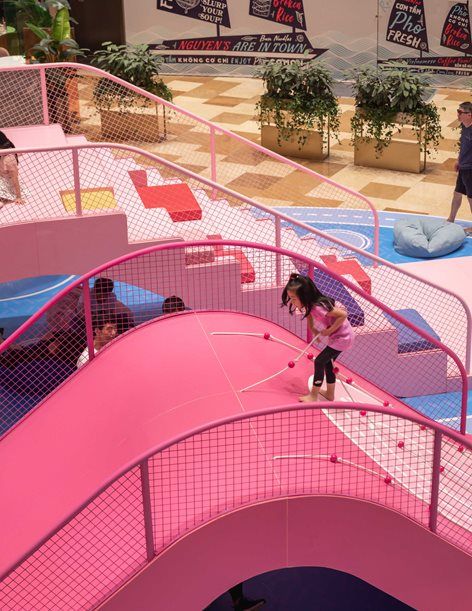 Tumblespace

---
One of the five spaces that is designed to have a high level of activities that is safe, and full of tactile textures.
Tumblespace is one of the spaces that I worked on that features creative blocks that can function as both an obstacle or a building block in an uneven, surprising environment.

We each took on a few different landscapes to brainstorm and think about what activity would the interaction be. In my vision of the tumblespace, it has multiple textures on your enlarged, unreal looking blocks that you can touch, stack, build and interact with.
Graphic Icon for each space
In total we have developed more than 50 forms of blocks that some might fit with each other and some would stack to create new shapes. These were then made into 1:1 scale models with foams and wooden structures for testing purposes.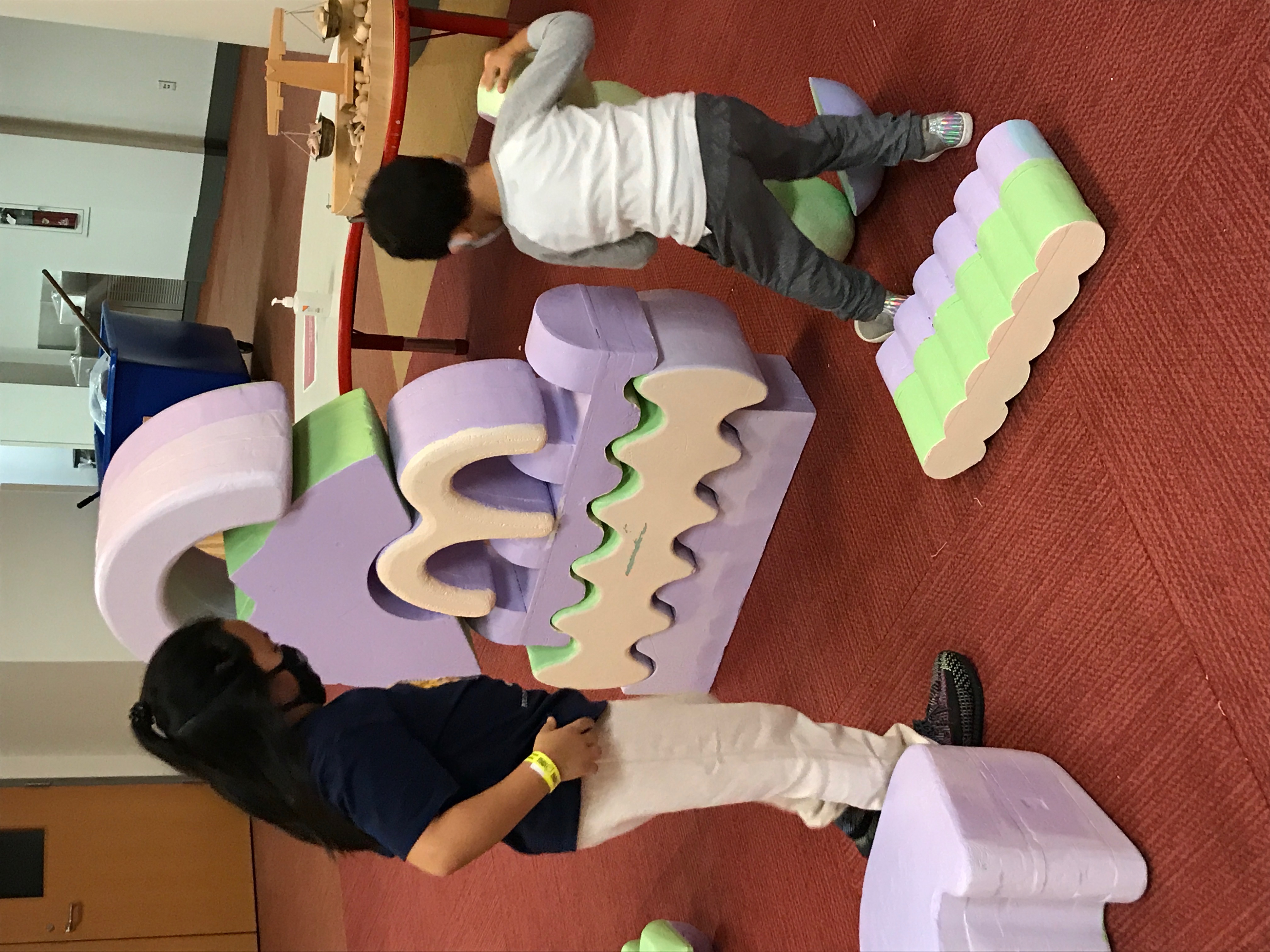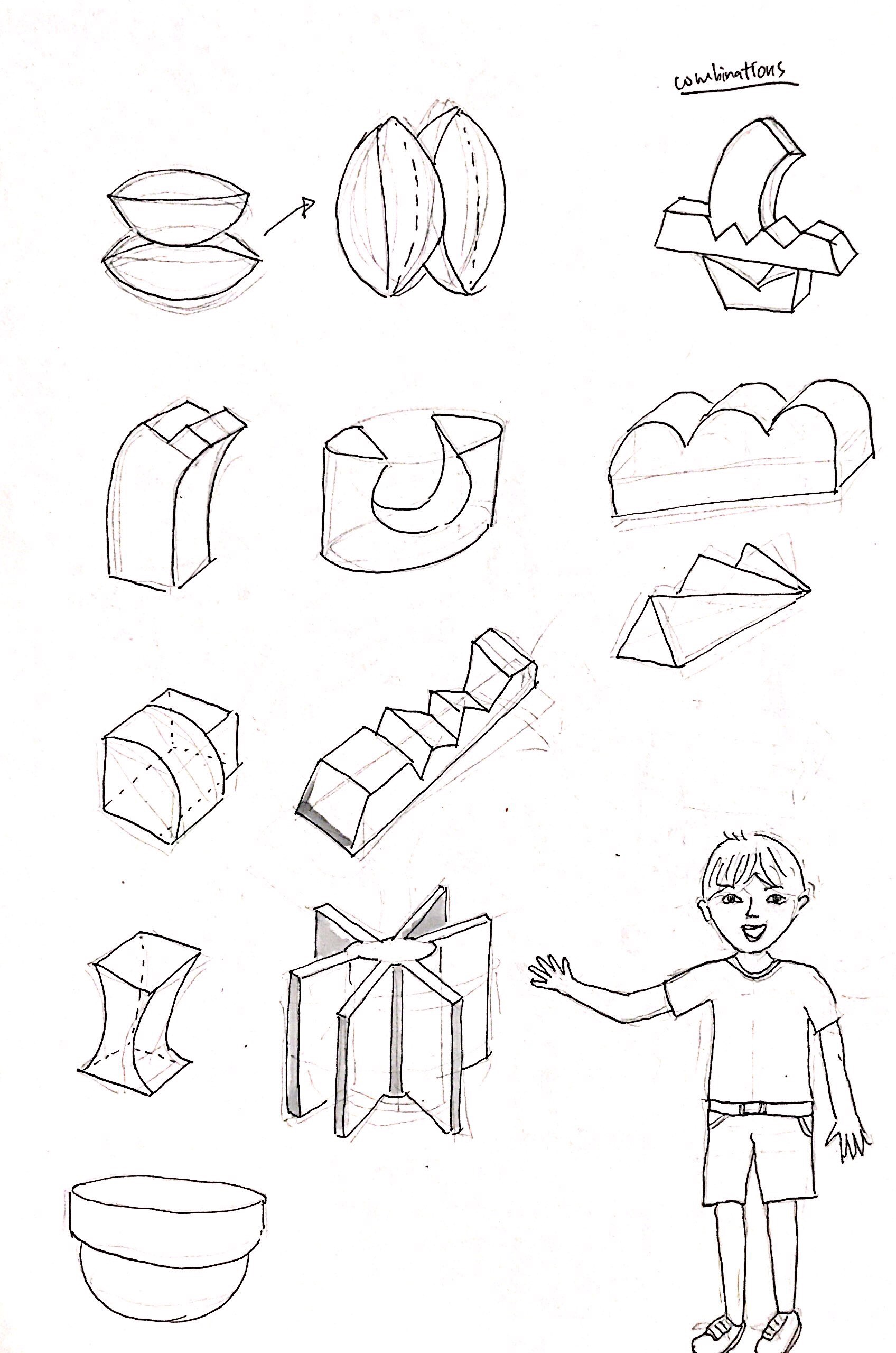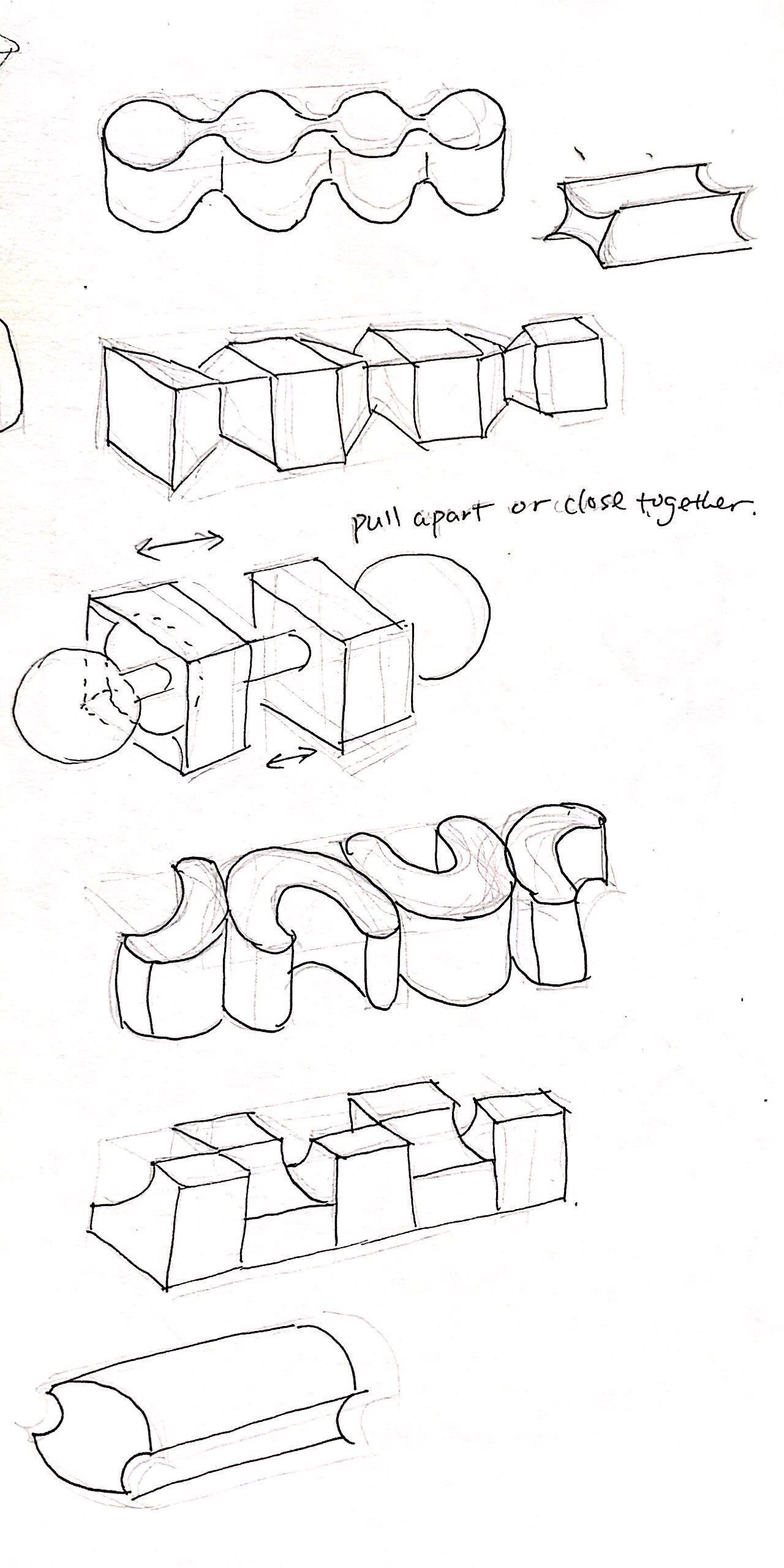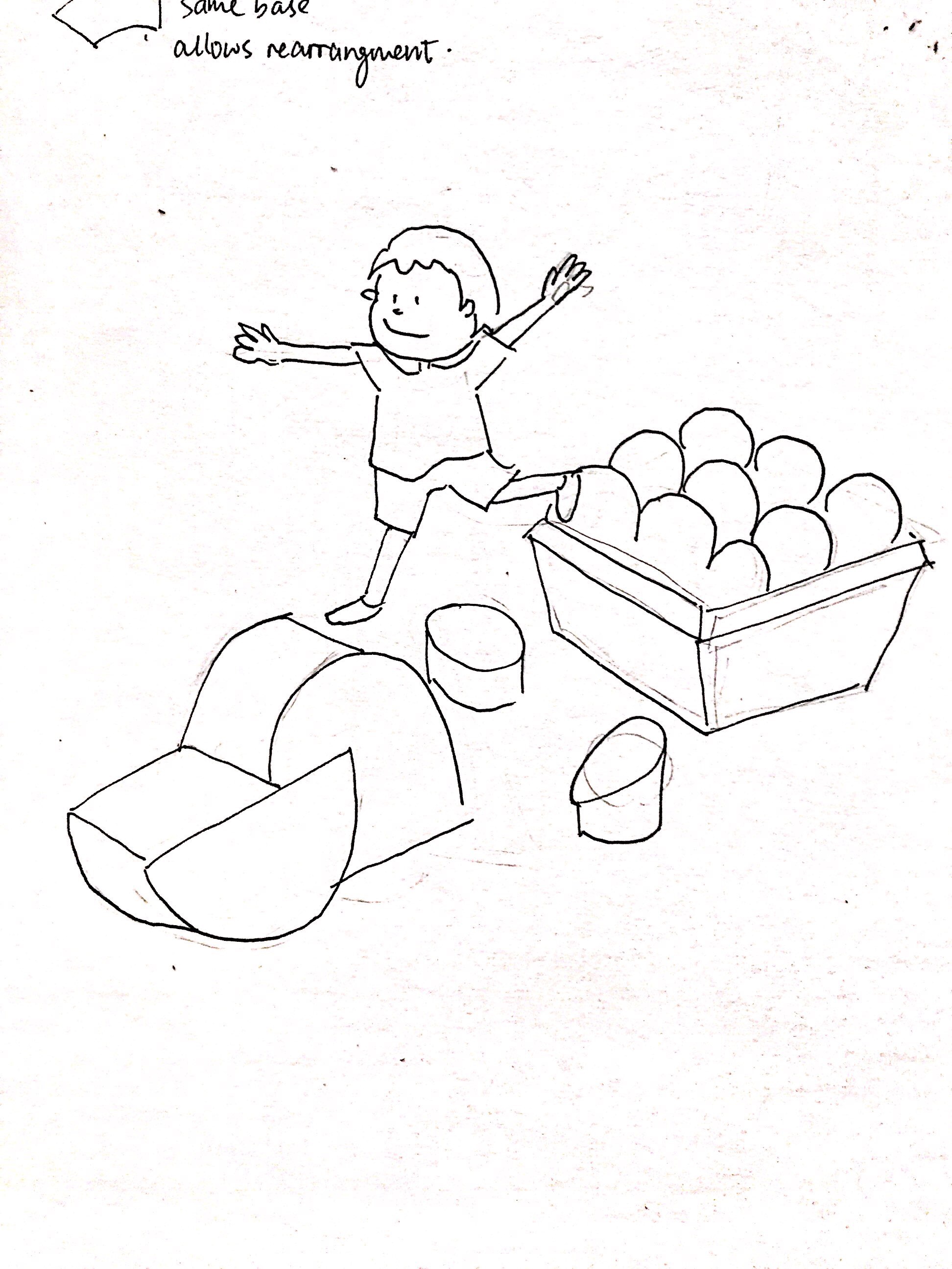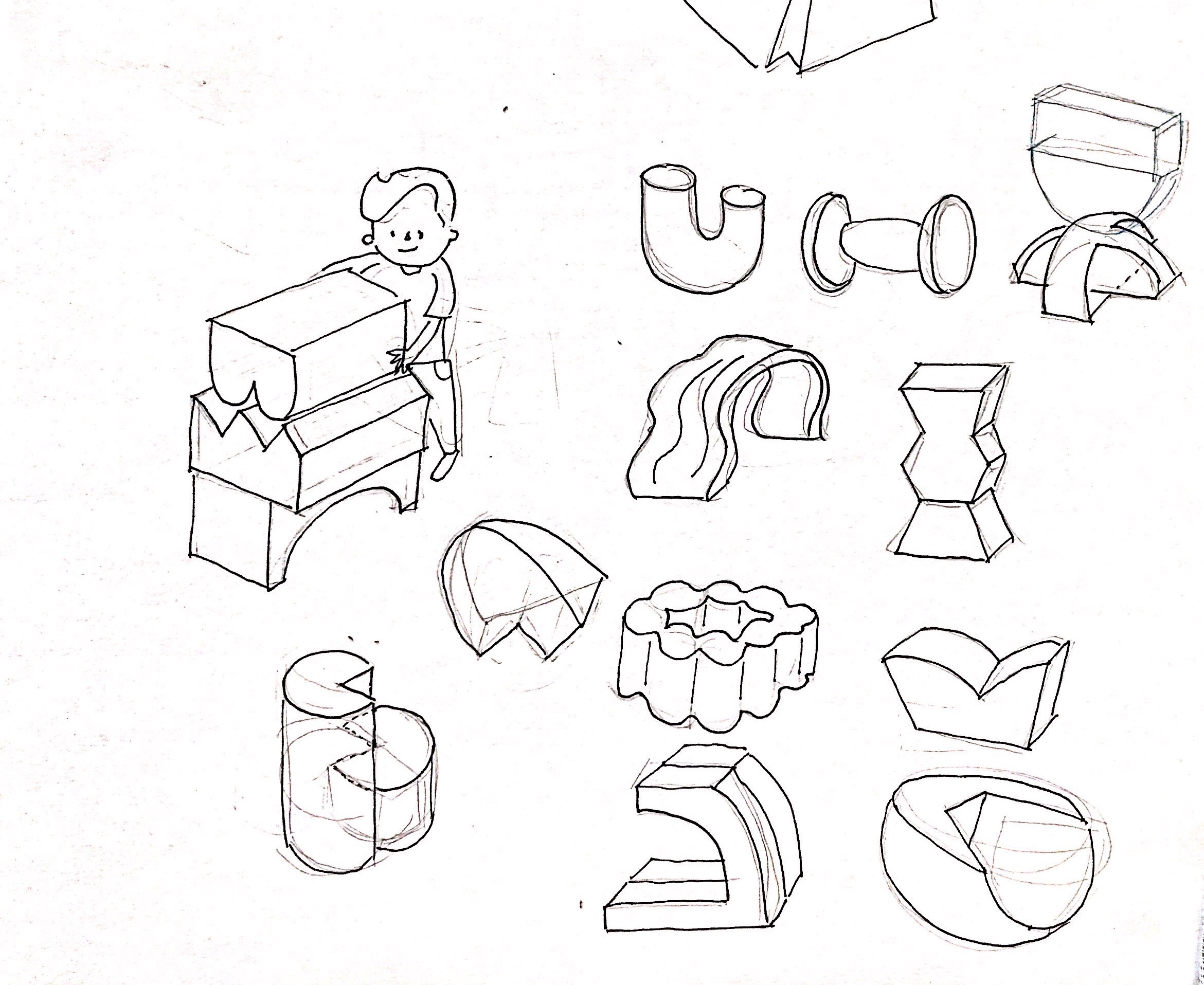 Don't EVER forget to play
---
Life lesson from the project



Play is crucial to any human. To be able to work in a space that promotes well-being and accessibility, I felt like it helped me to design boundlessly. This project truly is a marriage between everyday interaction and wild, radical and playful ideas that will grab everyone's attention to re-shape their definition of a space.

The final space
---


This is a complex, tactile land that blends between low activity zone and high activity zone! There are so many different ways to interact with the space. Every corner is filled with concepts that can extend beyond your imagination. Through colorful and playful configurations, we hope that not only children can enjoy this, but adults can enjoy and be present!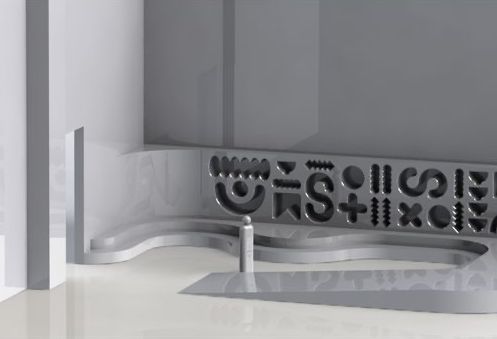 Photo credits: LSC.org
---
Also related: